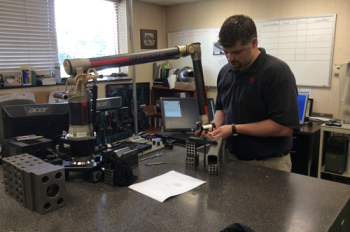 I
n 1922, H. P. Axelberg, the son of a Norwegian immigrant, saw opportunity in South Bend, Indiana with the growth of Studebaker Company and the University of Notre Dame. He opened General Sheet Metal Works to serve the industrial sheet metal needs of the thriving community. The company set up shop on South Main Street, where its headquarters remains to this day. In the early years, GSMW designed and built paint booths, dust collectors, and air handling systems for the Studebaker automotive plants. The company also provided ventilation systems and metal roofing for the University of Notre Dame. One such project involved the replacing the gold leaf on the dome of the Administration Building.
Municipal construction projects in the South Bend area helped sustain the company through the Great Depression, as several public schools were built during that time period. With the 1940's came the United States' involvement in World War II. While not directly involved in supplying military parts, the company completed numerous projects at Studebaker, as assembly lines were reconfigured to produce equipment for the war effort. After the war, residential construction boomed, while industrial projects tapered off.
In the mid 1950's, Mr. Axelberg started a separate five-man manufacturing division that provided metal component parts for companies that manufactured finished products. That operation quickly prospered, while opportunities in sheet metal contracting declined. Metal parts fabrication soon became the primary focus, and GSMW became the principal supplier to Wheel Horse, a South Bend company enjoying tremendous success with its line of garden tractors.
"In today's competitive marketplace, manufacturers need stable, reliable, value-driven suppliers with the expertise and resources to perform predictably and responsively. GSM has the internal and external resources to be a secure, strategic link in your supply chain. "
– Tom Sesterhenn, Director, Supply Chain Management
The founder's three sons joined the business in the 1960's, and eventually became equal partners. They expanded the company's equipment base of manual stamping presses and mechanical press brakes, and shifted the focus from fabrication to short-run stamping. The 1970's saw a continuation of the existing business model, under the ownership of the second-generation Axelberg brothers.
By 1984, Jim Axelberg had acquired his two brothers' interests in the company, and become sole shareholder and president. That same year, current president John Axelberg, a recent graduate of DePauw University, joined General Sheet Metal Works as an estimator and project manager.
With the 1990's came the increased deployment of technology in the business. The company acquired its first laser in 1997. Progress continued into the new millennium with investments in plant expansion, technology, and education. In 2003, the company acquired a facility adjacent to its South Bend plant, increasing production space by 70,000 square feet. Expanding into Wisconsin in 2006, GSMW opened a plant in Tomah, WI to more effectively serve a key customer's local plant. Two years later, increases in demand required a doubling of the plant size to 45,000 square feet. Meanwhile, investment in laser technology continued, totaling $6.6 million from 2000 through 2010. The company recognized the role that education, training and collaboration would play in its future success, and invested $250,000 to redevelop an older structure on the South Bend campus into a thoroughly modern training facility.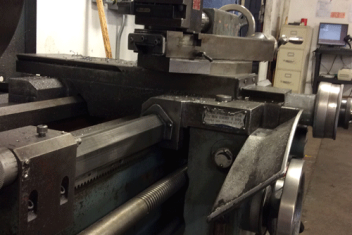 T
he 2009 recession dramatically impacted GSMW. Following a record year in 2008, sales revenue dropped 40% in 2009. The company reduced its workforce out of necessity, but redoubled its efforts to identify and implement improvements that would enable it to find new opportunities. They engaged Purdue University to launch lean manufacturing and leadership development initiatives. Extensive training, begun in 2009, became a regular part of the company's ongoing operations and continues today, with active Continuous Improvement projects throughout its manufacturing operations.
By 2010, General Sheet Metal had recovered to pre-recession level revenues, with sales topping $30 million. Through increased focus on diversifying its customer base, developing management capabilities, and expanding its offerings, 2011 revenues grew 33% to $40 million, with 2012 revenues increasing another 24% to $49.6 million.
Today, GSMW serves a diverse range of customers including manufacturers of agricultural equipment, power generation and distribution equipment, utility-scale solar power, automotive, military transport, heavy truck and trailer, data center infrastructure, and others. Diversification of its customer base, improved manufacturing efficiency, addition of new capabilities and enhancement of its organizational design will continue to improve prospects for the company.
Based on industry data and customer growth projections, GSMW revenues are expected to exceed $54,000,000 for 2013.
Anticipating further growth, the company is currently pursuing the relocation of its South Bend headquarters and plant, as incremental expansions over the years have been at the expense of optimal overall plant layout, employee comfort, and efficient workflows. Options originally included expansion of the existing facility however engineering studies indicate that a phased construction approach that would enable uninterrupted operations is not feasible. In March 2013, GSMW recently confirmed a commitment to construction of a new facility on acquired land. After a lengthy search and selection process, negotiations for the site are currently underway, the architect and construction management firm have been selected and identification of the manufacturing flow design consultant has begun.
The design of the new facility will include a dedicated education and training center including a fabrication lab for skill development and prototyping activities.