Fabricator Article Spotlights General Stamping & Metalworks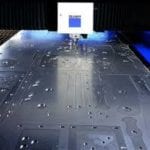 December – 2018
The Fabricator recently highlighted the strategic partnership between Trumpf and GSM in their article, "A Deep Dive into Laser Cutting".  The article focuses on five different organizations with very different business models.  Even though these companies vary in scope, how can process, superior equipment, and innovative software tools improve throughput for all of them?
First, General Stamping & Metalworks combines a high degree of software automation with smart inspection processes and long-term capacity planning.  In addition, GSM utilizes high-density storage racks and an innovative circuit system to improve material handling efficiencies.  Finally, GSM focuses heavily on training and retaining the best talent in the industry.
To read more, follow the links below.
Click Below to Share on LinkedIn