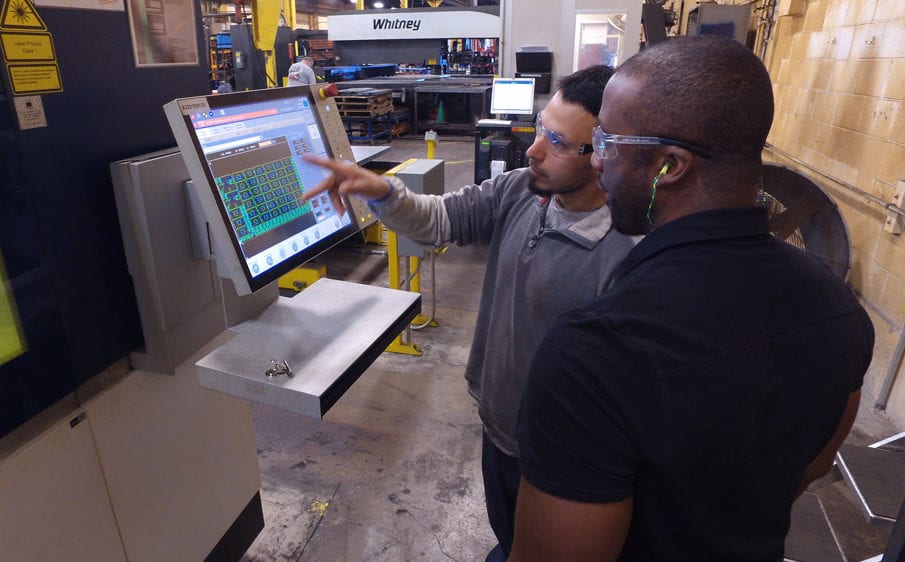 L
ooking for a career that is satisfying? Interested in exploring opportunities that let you develop skill and confidence? General Stamping & Metalworks offers an environment that is committed to helping its employees learn new skills, improve their ability to apply knowledge and solve problems, and grow in their chosen area. We offer in-depth, on the job learning opportunities and help you develop the skills and attitudes that will help you succeed with us and in the world beyond.
At General Stamping & Metalworks, our team is committed to supporting some of the most successful equipment manufacturers in the world–companies that provide food, fuel, water and enjoyment to millions of people. With our global perspective, our goal is to provide the collaboration, manufacturing expertise, and supply chain security that will enable us to protect our customers' brands. Whether our customers are local, national or international, you will be part of a team that helps them scale their operations and ensure their products perform.
Opportunities for employees
Interested in a leadership role? Good with your hands? Love to teach and train? Do you enjoy building things or working with machinery? Are you administratively oriented? General Stamping & Metalworks team members have diverse backgrounds, talents and perspectives, but they share one thing in common: they are willing to make the commitment to supporting our customers with the best of their abilities to meet the ever changing demands for food, power, transportation, shelter and the infrastructure that makes it all work.
At GSM, as we prosper, our employees prosper. Come find out about the opportunities here. We think you will be surprised to learn it's not your father's factory anymore. We are a non-union workforce running two shifts in a leading-edge environment offering competitive pay and excellent benefits as well as a number of employee-supportive programs that encourage further development, education and training. Our new South Bend, Indiana and recently expanded Tomah, Wisconsin facilities offer employees an unparalleled environment in which to work together.
See what people have to say
Instituting the new organizational structure, including a structure for training, has helped overcome Axelberg's original worries about finding good, skilled people. If a company is known as a good place to work, recruiting gets easier.
Tim Heston Senior Editor - The Fabricator
"We see this facility for one thing being a catalyst," Axelberg said. "We can use this to get young people actually going into high school, to be excited about careers in manufacturing we think it can be a great thing for our region."
Shaun Gallagher Multimedia Journalist
Manufacturing environments typically are not the nicest environments to work in, with safety, temperature control and cleanliness issues. "We consciously looked at what will attract and retain the best people. Pay and benefits have a lot to do with it, but it's not the whole story. Environment and culture play a key role. So with the new technologies that are available, we saw an opportunity to create a leading-edge manufacturing facility that our team will enjoy working in," she said.
Charles D. McGhee South Bend Region
Employers concerned about retaining talent, he said, should ask themselves what they can do to provide better opportunities for their employees. Both Axelberg and Bonin believe in helping employees advance within the company and in providing a living wage.
He wanted to change the company culture, but not in an ethereal way. In a sense, he wanted to channel the curiosity and passion employees already had. "These aren't low-skilled workers. They're skilled. As we saw it, in most cases they're really not paid for their repetitive labor, but for their knowledge."
Tim Heston Senior Editor - The Fabricator
We think our new facility can help overcome some of the outdated perceptions of what a career in manufacturing looks like.
John Axelberg President & CEO